Access Our UL Certification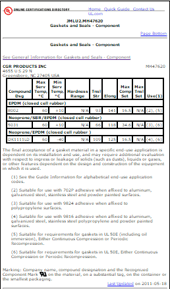 Per UL guidelines, the UL designation of two separate components (sponge and PSA) is voided once a chemical bond is made between the two, and a new product is created which must meet rigorous UL standards.
CGR Products offers three UL Recognized Components of sponge rubber and pressure sensitive adhesive which are JMLU2 listed and suitable for UL50E standards. Our products meet the quality standard in terms of "tensile strength, elongation, compression set, tensile set, hardness, low temperature, and the retention of these properties after accelerated aging and exposure to various environments."
CGR Products abides by strict quality processes, and we maintain documentation to ensure these processes are followed.
Our certified materials are suitable for:
Seals

Flexible cellular gaskets

Facings

Sheet material

And more
Fill out the form on the right for access to our UL Certification.