Get the Fluid Resistance Rating for Your Material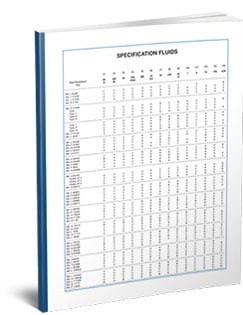 Elastomers respond differently to certain specification fluids, and it can be a challenge to select the right elastomer for your application.
It's important to ensure your material won't be negatively affected by any fluids it might encounter during service. CGR Products has simplified this issue by creating a Specification Fluids Chart with fluid resistance ratings for all elastomers that we carry compared to a comprehensive list of specification fluids, including:
MIL-L-644B (used as general purpose lubricating oil)
VV-P-236A (a light-weight lubricator used for aircraft)
If a sensitivity is discovered while using the chart, alternate elastomers should be explored, or in some cases, an alternate lubricating fluid that is less harmful can be used.
Simply fill out the form on the right to download your free copy of the Specification Fluids Chart.