Find the Cost and Temperature Range of the Polymer for Your Application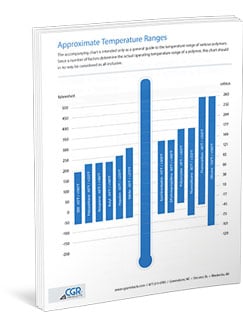 Many applications require materials to withstand extreme hot and cold temperatures. For this reason, CGR has created a Temperature Ranges Chart for some of the most commonly used polymers, including:CGR Products can cut and fabricate a wide range of materials, including various rubber polymers. Each polymer maintains unique physical and mechanical properties, and it is important to understand these properties when choosing a material for your application — as well as the costs for each.
Nitrile
Neoprene
Silicone
Butyl
And more
The chart illustrates the minimum and maximum operating temperature ranges in both Fahrenheit and Celsius. CGR has also developed a chart illustrating the Relative Costs for Polymers so you can make the most efficient decision in terms of your budget.
Fill out the form at the right to download and save these charts for your records.