Get the Facts on 3M VHB Tapes
Access performance data and learn how 3M VHB tape can benefit your application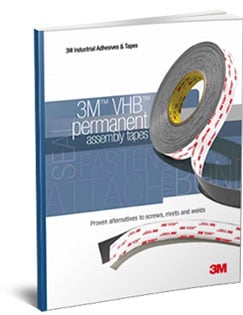 3M VHB Tapes are made with acrylic foam, providing outstanding strength and durability for highly demanding applications. The foam, which is viscoelastic in nature, utilizes energy-absorbing and stress-relaxing properties, which gives the tape its unique characteristics.
CGR Products is a 3M Preferred Converter, and utilizes a variety of cutting methods to ensure your product meets the shape and dimensions that you require with the utmost precision.
We have compiled a collection of helpful documents offering valuable information about 3M VHB Tape, including:
3M VHB Tape Technical Data Sheet

3M VHB Tapes Design Guide

3M VHB Permanent Assembly Tapes

and more!
Fill out the form at the right to access these documents.